Police officer gets a twerking on at Notting Hill Carnival http://t.co/k81MQL3t2n pic.twitter.com/RtJoMG4oET

? HuffPostUK Pictures (@HuffPostUKPics) August 25, 2014
This picture from #NottingHillCarnival is just begging to be a caption comp! via @cocobuttergirl1 pic.twitter.com/farhEaozBA ? TCS (@SgtTCS) August 25, 2014
The Metropolitan Police really showed how to police a carnival yesterday! #NottingHillCarnival pic.twitter.com/IxQnvTrcxb

? Claire Howlett (@CEHOWLE) August 25, 2014
Helping the police with their enquiries. . # police #NottingHillCarnival pic.twitter.com/VmHKK5fcxx ? David Bliss (@frozenpoints) August 25, 2014
Twerking?is a type of dancing in which an individual, usually a female,?dances to music in a sexually provocative manner involving thrusting hip movements and a low squatting stance.?Though the term seems to be of uncertain origin with common assumptions suggesting it represents a contraction of "footwork" or a portmanteau of the words "twist" and "jerk", the Oxford Dictionaries blog says "the most likely theory is that it is an alteration of work, because that word has a history of being used in similar ways, with dancers being encouraged to "work it". ("Twerk it" is a common phrase as well.) The "t" could be a result of blending with another word such as twist or twitch."?There is evidence from ethnographic interviews in New Orleans that the term began as street language in New Orleans with the rise of the local hip hop music known as Bounce.?Since the late 1990s, twerking was associated?with Bounce music of the Dirty South and was disseminated via mainstream hip hop videos and popular video-sharing sites since the mid-2000s. In 2013, twerk was added to the Oxford Dictionary Online.?According to Oxford dictionary, the word has been around for 20 years. The word was a runner-up in the Oxford Dictionaries Word of the Year?2013.
Twerking during the riots in the US:

In 2005, a trio of teenage girls founded The 'Twerk Team',?and joined YouTube on June 5, 2009.?Now composed of two African American sisters from Atlanta, Georgia. Since the foundation of the team, they have been posting videos of "them gyrating and shaking their butts, to a point that it's artistic."?It was called "YouTube's foremost ass-shaking troupe" by gossip website Gawker.?As of December 2012 their channel had a total of more than 74?million views and more than 250,000 subscribers.?Their Twitter account has about 115,000 followers.?The website Urban Dictionary, claims that they became popular for their dance to the song "Donk" by Soulja Boy.
n March 2013, American pop singer Miley Cyrus posted a video on Facebook which featured her performing a twerking routine while wearing a unicorn suit, to the 2011 single "Wop" by J. Dash. The popularity of the video, along with parodies and responses made by fans, influenced the song's re-emergence on the Billboard Hot 100.?Miley Cyrus's "Wop" video would go to become viral; by April 9, 2013, copies of the video had amassed over 4?million views on YouTube. Also in March 2013, Mollie King, an English singer-songwriter and lead vocalist of British-Irish girl group The Saturdays, was seen twerking when her bandmate Rochelle Humes, uploaded the footage on YouTube.?American actress and singer Vanessa Hudgens was also seen twerking in March on American late-night talk show The Tonight Show with Jay Leno.?In September 2013, Hudgens was later seen twerking, this time to the song "Bubble Butt", during her performance at Bootsy Bellows in West Hollywood, with her girl group YLA.?Hudgens was again seen twerking in a video for Shade 45's radio show Sway in the Morning.?American actress and singer Ashley Tisdale can also be seen twerking in a video for Shade 45's radio show Sway in the Morning.
On July 9, 2013, a video was posted on the Twitter-owned video sharing service Vine entitled "Twerk Team", which featured a group of five women provocatively twerking to "Don't Drop That Thun Thun". The clip was shared by users over 100,000 times, and users created their own responses and parodies featuring the song, collected under the hashtags "#dontdropthat" and "#thunthun". The viral popularity of the Vine clips led to an unexpected increase in sales for the song; prior to the posting of the "Twerk Team" clip, only 4,000 copies of the song had been sold; in the following weeks, sales went up to 34,000, then to over 72,000. By late-July, "Don't Drop That Thun Thun" had reached #5 on Billboard's R&B/Hip-Hop Digital Songs chart, and it eventually peaked at #35 on Billboard's Hot 100 chart.
In 2013, 33 students from Scripps Ranch High School in San Diego, were suspended for using school equipment to make a twerking video on school grounds that was later uploaded to YouTube.
In August 2013, American recording artist Miley Cyrus, generated controversy following a sexually provocative performance during the 2013 MTV Video Music Awards, in which Cyrus twerked during a medley of her track "We Can't Stop" and "Blurred Lines" and "Give It 2 U" by Robin Thicke.
In August 2014, American recording artist Taylor Swift, also generated controversy with her twerking in the music video to her single "Shake It Off".?American rapper Earl Sweatshirt said the video was "perpetuating stereotypes".
Case: Twerking arrest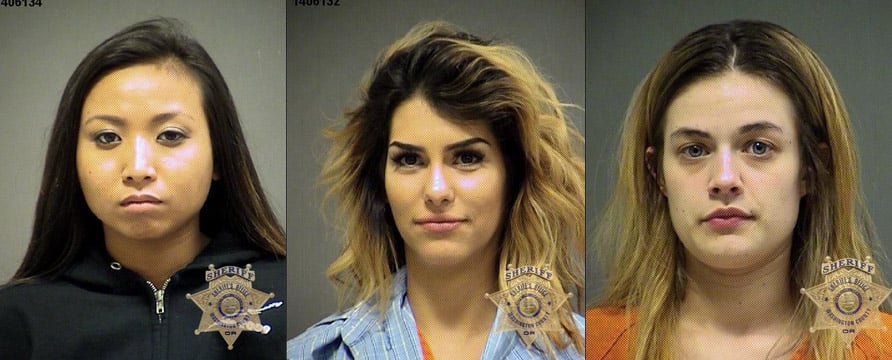 Three women who police said were "twerking" in front of Beaverton City Hall were arrested and found to be in possession of drugs Monday afternoon, according to the Beaverton Police Department.
Beaverton police said Coura Velazquez showed up at municipal court to pay a fine for a warrant, and that's when she and her two friends left the building and began "twerking" in front of City Hall near the municipal court windows.?Velazquez and Brittney Medak, who are both from Vancouver, exposed their genitals while twerking, and Medak went on to lift her skirt and urinate between two cars.
According to police, the third woman, 22-year-old Leokham Yothsombath, filmed the entire incident with her cell phone. Several court employees were watching, too, and when the group left City Hall, they were stopped by a Beaverton police officer on Beaverton-Hillsdale Highway just west of Southwest Griffith Street.
Once Medak gave police consent to search her car, they found evidence of several drug-related crimes, the police spokesman said.?Medak now faces charges of disorderly conduct, offensive littering, tampering with drug records, possession of prescription drugs schedule 4 and possession of marijuana.
Velazquez, meanwhile, faces charges of disorderly conduct, possession of prescription drugs schedule 2 and possession of methamphetamine. Yothsombath is also facing a long list of charges: possession of cocaine, possession of prescription drugs schedule 4, tampering with drug records and possession of marijuana.
All three were lodged at the Washington County Jail.
Related Posts: