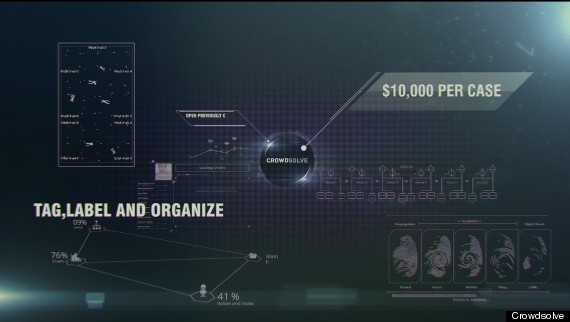 "Can the millions of people who have found or rekindled a passion for true crime, armchair sleuthing and internet investigation manage to enact real change? What if we gave them visualization tools, access to raw case data and files, and powerful evidence indexing – all for free?"
In just a handful of episodes, the Serial Podcast?has gone from a spinoff podcast to a full-on cultural phenomenon, captivating millions of people weekly and creating more online discourse and dinner conversation than any podcast in recent memory. Crowdsolve recently started a crowdfuncing project on?IndieGoGo?facilitating web sleuths, digital detectives and armchair investigators.
With these tools, could CrowdSolve?bring help bring justice to the estimated 40,000 people (according to the Innocence Project) wrongfully convicted in the U.S. alone?
Serial has also created an army of online detectives – using only Google apps and anonymous Reddit accounts, who spend hours upon hours each week posing?alternate theories, doing their own sleuthing and working together to solve the murder of Hae Min Lee.
That?s what CrowdSolve is aiming to find out. Inspired by the community around Serial, we?re taking a crowdsourced approach to crime solving, starting with the case of Adnan Syed. The Indiegogo campaign is aimed to?help pay for the release of every document related to Adnan?s case and our growing team of developers and creatives are building the first-ever platform for those passionate about true crime, justice, and finding the truth.
The platform will provide a place for people who can't get enough of programs like Serial and Dateline, and give them powerful and collaborative tools that can transform raw case files into compelling timelines, alternate theories, and bring ignored or hidden evidence to light. Users will be able to work solo, or collaborate with people they know or other community members. Regardless of if a user spends ten minutes a day, or a few hours a week, they'll all be contributing to assisting those who haven't found justice in the justice system. Much like Reddit, the ?Crowdsolve?community will include user moderators, and the ability to upvote or downvote, so that the best theories get the most attention and anything disrespectful or implausible stays on the fringe.?This platform doesn't?end with the Serial case – it's a permanent community with a singular aim: finding the truth.
CrowdSolve's key features:
Get the real case files.
Case files and court documents are technically "public documents" ?but they can be expensive to obtain and confusing to navigate. CrowdSolve will provide the documents ?& audio recordings (like police interrogation tapes) in a format that is easy to read and organize while you're working through the cases.
Get tools to help you visualize data and build timelines & profiles.?Crowdsolve is?developing a platform that will provide you with powerful, intuitive, and easy-to-use tools that will help build theories that are logical and visually appealing.
Present your theories to the community.
As you build your theory you can present your steps to the community for fact-checking and ensuring there are no inconsistencies. You can even transfer your theory to others so they can use it to build their own cases.
Debate your theories with other members & collaborate to find evidence.
As a member, you will be able to debate theories with other members, help gather and organize evidence, and build theories together. The ultimate goal is to find compelling evidence of a wrongful conviction.
The?first case will be the murder of Hae Min Lee; the story Sarah Koenig is telling through the ultra-popular podcast Serial. Adnan Syed, who is now 32 years old, has been sitting in jail since he was 17 based on a trial with no forensic or DNA evidence, and a shallow and unsubstantiated motive. He has lost the last 15 years of his life and we?re all asking whether he should spend the rest of it in prison. Using CrowdSolve, the world can come together and dig deeper into this case with real court documents and witness testimony.
Bronnen: EnGadget, IndieGoGo, BetaBeat, TechCrunch
Related Posts: