It?s being called a hate virus ? kids going online to bully others -but there?s a way for parents to now figure out if their kids are part of the problem and if so, put a stop to it immediately.
A University of Tampa graduate created the app ?My Social Sitter? that is now used worldwide.
The technology intercepts, analyzes, and filters inappropriate content in its tracks. ?We have over 3,000 words and sentiments in six different languages,? says Michele Joel explaining how the My Social Sitter app works. ?So a parent would get a text message or email alert if any message that their child sends out is rejected.??Social Sitter is monitored by real, live people just like you, not by an automated script bot that can?t differentiate between spam and genuine interaction on your page.
New numbers show this is a serious problem, with more than 70 percent of school children reporting being cyber bullied during the course of a school year.
?Kids send out hundreds of messages a day,? Joel said. ?Now, we can make sure our kids are sending the right messages, and put a stop to cyber bullying.?
My Social Sitter also flags sexually explicit content.
How does it work?
1. Someone posts an update on one of your social media pages
During work hours, it?s your job to monitor user content on your brand pages in accordance with your brand guidelines and social media policy. When you?re off the clock, SocialSitter monitors the content for you.
2. Our team checks the update and categorizes it for your review and action.
High risk content will be flagged for your immediate review, and you will be alerted by SMS within 15 minutes of anything appearing on your page. Other content is categorized as ?OK? (no action taken), ?General response? (an after hours message is posted – coming soon!), or ?Offensive? (content deleted). We have a standard moderation policy, or we can produce a custom version for you.
3. You rest easy knowing someone is always watching over your virtual children.
Additionally, at the end of every shift (each morning) an Australian team member reviews all content moderated, as part of our ongoing dedication to quality improvement.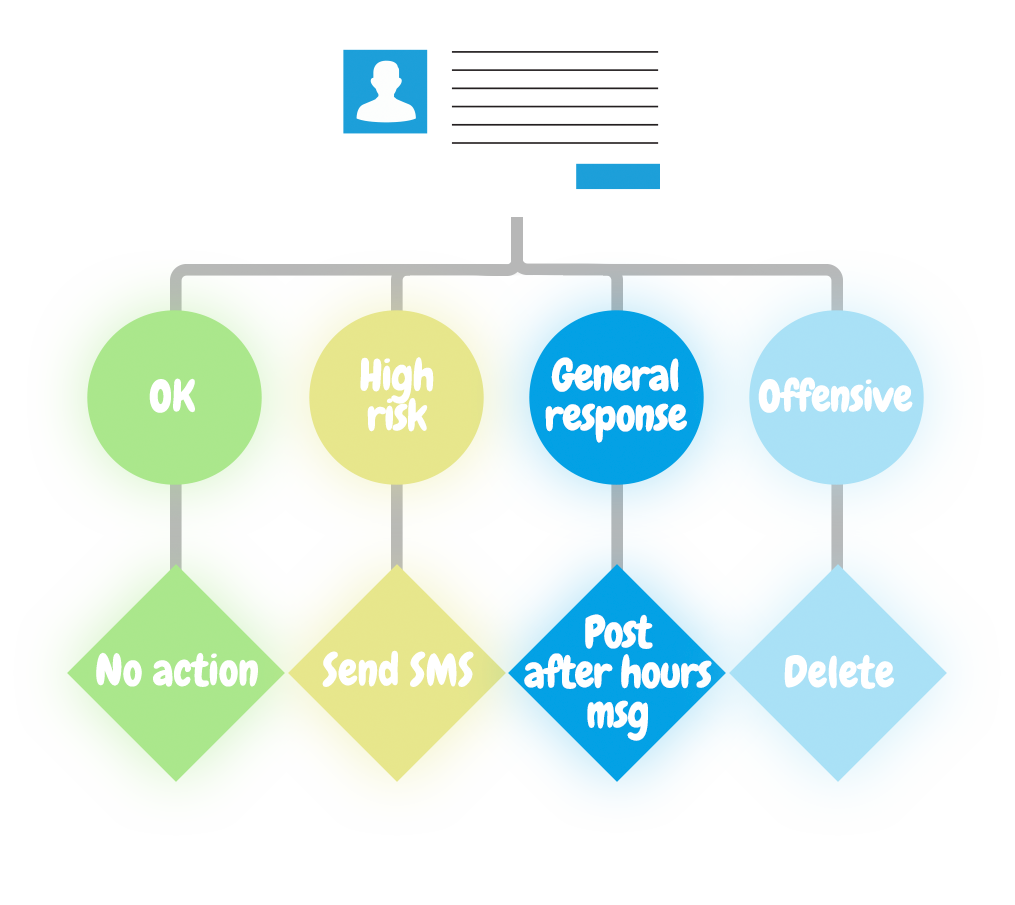 'We switch on, so you can switch off'
"Our team will monitor, categorise and create alerts for your pages? content with 95% accuracy guaranteed, even for very highly trafficked sites.?The content from your social media profiles is reviewed by a trained moderator, provided by our partner
SamaSource
. Samasource is a nonprofit organization whose mission is to alleviate worldwide poverty by connecting unemployed women and youth in impoverished countries with digital work, allowing them to earn a wage as determined by the Fair Wage Guide and to learn computer literacy skills to be employed in the broader workforce."
A response will be logged and issued on any content requiring immediate action within fifteen minutes of it being posted to your page. Quick notification guaranteed.?Social Sitter is not intended to be an emergency community management service.?Social Sitter doesn't manage your community — we do not respond on your behalf to questions, ReTweet or Like things, or otherwise engage with your community. By doing so, this allows us to keep our costs down. If you are looking for 24/7 community management, contact us and we can refer you to an appropriate organisation who can assist you.
Our moderation partners adhere to the strictest ethical standards. SocialSitter can offer our service at a low cost while also doing good.
Social Sitter is a project made by Dialogue Consulting, who specialise in providing social and digital media strategy, risk management and advisory services. Based in Melbourne, Australia, we work with a large range of clients across many sectors and industries.
Sources: My Social Sitter,?My Social Sitter Blog, WPRI.com
Related Posts: